Every polling station I drove by seemed to be a church. And while I agree that it's not the most appropriate place, what is the alternative? Close libraries, schools, and fire stations on election days?
CNN Belief Blog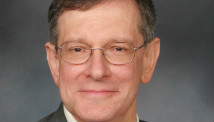 Editor's note: The Rev. Barry W. Lynn is executive director of Americans United for Separation of Church and State.
By Barry W. Lynn, Special to CNN
I live in Maryland, where we have a lot of controversial questions on Tuesday's ballot, including referenda on marriage equality, the rights of immigrants and the expansion of gambling.
Many churches and other houses of worship have taken stands on these issues and lots of others, which is their prerogative. Although federal law prohibits churches from endorsing or opposing candidates, they have the right to speak out on ballot referenda and on other issues, from abortion to zoning.
All of this church-based political activity makes me uneasy about casting ballots in houses of worship, especially those festooned with political signs. And yet today, hundreds, perhaps thousands, of churches around the country are being pressed into service as polling places.
View original post 768 more words